Breaking Wind
The latest stories from the Varne News Hound
 Water sports dates for 2017 (plus for the first time Blokarting on this page)
Varne Watersports RYA Push The Boat Out,  Sat May 13th (11.30-16.00)
Varne Watersports RYA Push The Boat Out, Sun May 14th (12.00-16.30)
Varne Watersports RYA Push The Blokart Out, Sat May 20th( 11.00-onwards) contact Mark Serejko at  
Bewl Water SUP Armada ,Guinness World record attempt July 21st-23rd
Hayling Island Round the island race on windsurfers or SUPs Now on Sat 23rd Sept ( date changed from Easter Good Friday).
We have for a limited time only spaces in our boat compound for dinghy storage at only £40 per dinghy per year.
If you want a brilliant watersports holiday in the sun, then try Ocean Elements for one of the best holidays around. Several of our memebers have been to Greece with Ocean Elements over the last few years and had a great time. They have various activities such as SUPing, windsurfing, sailing, mountain biking, all instruction is by RYA instructors and is included in your holiday plus free use of equipment. Please mention the VBC at the time of booking, or see Mark,Nigel, Ant or Clinton for more details.
Bellow is a taster of what they do so well....

An other organised outing from the Club - this time to sail the Whitbread 60 - Blueprint out of Hamble. Eight of us in our group; - with the combination of perfect breeze and sunshine all day. Ben Ainslie and his motley crew on their Americas Cup 'dinghy' kept getting in our way,- but apart from that it was an outstanding day!

The Club at the Round Hayling Island Race 2016 -
Four of us enetered - Mark and Antony on a tandem windsurf, while Zane and myself on SUPs.  Had a faboulous day in stunning settings hosted by the Hayling Island Sailing Club. Antony walked away with a 3rd prize in his class, well done!!

SUP NEWS, Bewl Water
This July 21st- 23rd 2017, Bewl Water are hosting a SUP event to attempt to break a Guiness World record to get as may SUPs on the water as possible paddling for a mile. Early bird discounts mean its possible to take part 2016 prices were £12 per adult or £6 per child plus a small booking fee, SUPs can be hired on the day for £10 or contact Mark to see if you can loan a club SUP to take part. There will be SUP races and SUP distribributors to see all the latest toys for the water.
Check out whats going on at www.armadaevents.co.uk/events/sup-armada 
and as they say book early to avoid disapointment.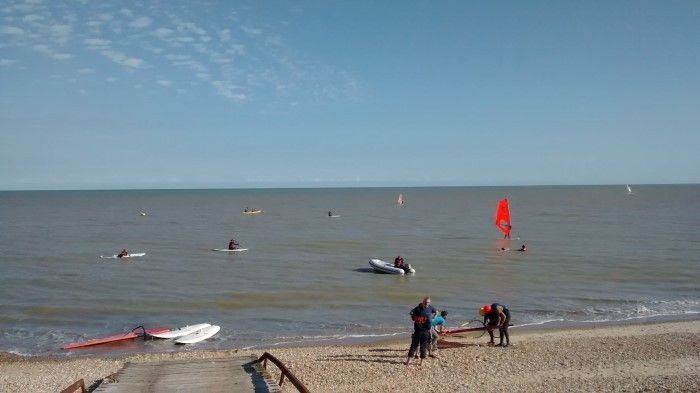 ---
Our guys had given a fair shot last Sunday on the Topper Topaz National in Whistable. Conditions were slightly lighter than ideal - so the race was not as fast and furious as one would have hoped.
Our two boats still have managed to finish the day in high spirits, well done to Alex, Zane, Jack and Rob!
Thanks for representing the club on our first national Race for many, many years!  
Topper Topaz Race Training - The Varne WATER SPORT'S Club
Topper Topaz Race Training - The Varne Water sport's Club from Alex C H Andrews on Vimeo.
SAILING FUN
The warm weather is bringing more and more dinghies out - and this weeks warm weather and breeze were prefect to put a few sessions under the belt. 

SIZE MATTERS
Good day and nice footage of Antony's cruising happily in the bay, while Mark behind him desperate to keep up with him on his smaller rig. Yes Mark - SIZE MATTERS after all!!

Saturday, 02 May
Out today for a spin in the toppers  - light NE 12knots ish , plenty enough to capsize neraly willie and 'cool off' in the water every now and than....

Waitrose Community Matters Scheme and the Varne Boat Club 2017
Great news from Waitrose,  this February The Varne Water Sport's Club sailing section  was awarded £264 from their Community Matter Scheme. This is the fourth donation we have had from Waitrose  so please keep supporting them as so far they have very generously donated £1036 towards club funds.
Santa crashes at sea off the Varne
SUPers search for Santa on Christmas day.
RYA PUSH THE BOAT OUT MAY 2017
.
 Two days are planned this years for the Push The Boat Out, they are:
Saturday May 13th 11.30-16.00hrs   
Sunday  May 14th 12.00-16.30hrs
On offer are the usual windsurfing, SUP, kayaking and sailing, we will supplly all the equipment, wetsuits, buoyancy aids and instruction. It is essential to book a slot as last year we were over subscribed. The event is weather dependant so if we have bad weather or any conditions affecting safety then we will cancel the day. If this happens we will try and book you in for another date as suitable. We plan to have a BBQ and light refreshments will be available.
To book
 either call 0785 81 33945 or email v

 and we will aim to get you on the water.
Just Chillin at the Varne
I love this photo, must be worth a free drink at the bar. If you have't renewed your membership or joined yet this is what it's all about.
New Water Sports shop opens on Romney Marsh  GenXSports
Check out our new local water sports shop GenXSports and  all the very latest equipment at genxsports.co.uk.
The shop is located in Littlestone Road, Littlestone,  TN28 8LN on the way down to the Varne Boat club.
The shop is stocking Kite Boarding gear ,SUPs, WSUPs, wetsuits and accessories plus they have a cool coffee bar.
Brands such as Core, Brunotti, Element,Manera and Reef are in stock.  
Contact Tony on 01797 458 070 or mob 07808 548 070 for more info.
Hayling  Round The Island Race March 25th 2016
The Varne water sports section attended The Round the Island Race this year, representing the club in windsurfing and SUPing. A record 140 competitors from all over the UK took part for a series of races of different distances, from a short fun course to a full circumnavigation of 14 miles as the crow flies or as a SUP paddles. Sunny weather, wind from the north, and  all competitors were tracked on GPS. The Hayling Island Sailing Club supplied the rescue boats (10 nice RIBS) and 50 volunteers and made everone very welcome.
On the tandem windsurfer was the usual duo of Mark & Ant who were aiming at a full rounding of the island as in previous years but due to headwinds, lack of wind, sailing backwards and mutiny on board only managed to sail the bronze short course to the bridge and back. Beating  upwind all the way to the bridge, plus the wind died completely then changed direction and on the return leg it was a headwinds all the way back, a 3 hour beating experience of 14 miles (not the way the crow flies)!
On the club's inflatable SUPs, Zal and Zane (whose previous long distance training invovled SUPing to the VBC yellow buoy and back)  were originally aiming at the short fun course. Spurred on by passing the backward sailing tandem of Mark & Ant, they decided to  aim for the bronze course turning around at the bridge. Our SUP paddle crazy duo then decided to go for  the silver course and  even more paddling into headwinds and ferocious chop as the wind turned yet again! After  just running out of time, they arrived at The Ferryboat Inn (the silver race completion point). The only thing that was deflated was the two inflateble SUPs as Zal and Zane were driven back to The Hayling Island Sailing Club . A heroic effort considering the distance paddled, the tides, wind and large marine vessels navigating the waterways, well done to both of them.
Spring is now here!
Winter is now behind us but the sea temeperature at this time of year is still very cold, so whilst the air temperature might be nice and warm the sea at present is not. Hypothermia is not a good look, so please play safe.
Wear a decent winter wetsuit,boots and a neoprene beanie or hood.
Make sure your  nice and warm before you go out.
Let someone know where you're going and when you'll be back.
Buddy up if possible.
Onshore winds are safer as if anything breaks you get a free ride back to the beach
If in doubt don't go out!
Watersports monthly get together club
Didn't know we had one nor did anybody else till last night, we watched a Peter Hart training dvd. Even thoughts of including other halves rather than leave them at home to watch rubbish TV. Everybody had Fish and Chips washed down with a beverage of their choice. Anybody interested please let Mark Rose know. Looks like the next meeting will be beginning of February, will post here as soon as a date is confirmed.
Kitesurfing causes baldness - yes folks you can always rely on the Varne News Hound to bring you the latest medical news.

Float like a butterfly, here's a little boogie!
Who's this Man - wanted for using too much water, rumored to drive an old blue and white van. If you see it clamp it he's having way too much fun.
Great Windsurf Videos
Check out this link http://www.sam-ross.co.ukfor a really good video on how to Carve Gybe.
Magnox 1 and Magnox 2
Fantastic new addition to the sailing fleet for members to use, and a second donation by those very nice people at Magnox.
We have also had great support from the Roger De Haan Charitable trust of over £18,600 of funding. Waitrose have helped the Varne with its Community Matters Scheme as have David Baker our local County Councillor and KCC.
MUSTO at the outlet in Ashford have given the club some great deals on our buoyancy aids and not forgetting the brilliant help and support from Steve at ACTIV of Folkestone.
A Big Thank you
Members saying thank you to everybody who has helped the club over the last year!